Have you ever wondered how the PEEPS Chick celebrates Easter?
Let's quickly back up to where we last spotted this bright yellow icon. On December 31st, the PEEPS Chick participated in the 10th Annual PEEPS Chick Drop in his hometown Bethlehem, Pennsylvania. An illuminated, 400-pound PEEPS Chick descended upon the city and welcomed 2019. Last October, the official mascot for the PEEPS marshmallow candy brand hit the red carpet at our Icon Awards and dazzled the crowd in his glittery tux.
Now, the PEEPS Chick is prepping for one of his favorite holidays: Easter! We were lucky enough to chat with the character for an eggs-clusive interview where he shares tips for egg hunting, his daily routine, and what's on his music playlist — all with the help of a PEEPS translator, of course!
Tell us about a typical day for a PEEPS Chick. Are you really an early bird?
Well, you know what they say — the early bird gets the worm, and that's true in my case. I like to wake up and watch the sunrise over my hometown. When it's time, I head over to the factory for a day of work where I greet everyone with a high five to start the day off on a sweet note. I work in the flavor and innovation room to make sure that each new PEEPS variety is ready for debut. During lunch, I like to take a walk around the park to stretch out my wings. After a day of work, I retire to my nest and fall asleep counting PEEPS bunnies.
What's your favorite thing to do in the Lehigh Valley, home of the PEEPS Factory?
I enjoy a nice stroll down Main Street, greeting friendly 'Peeps' I meet along the way. I've always admired the view from the top of the historic Steel Stacks.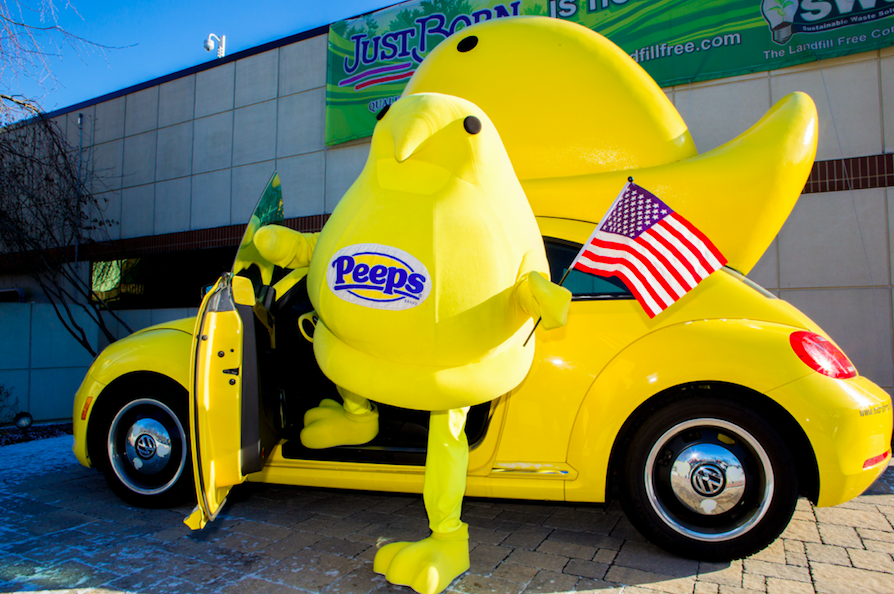 We see you've visited a lot of people and places in the Valley. Who are some of your favorite visits recently?
You're right! I love to visit the 'Peeps' of Bethlehem as often as I can! Recently, I made a big appearance at PEEPSFEST for New Year's Eve. I love to visit my friends as often as I can over at the PEEPS & Company store at the Promenade Shops at Saucon Valley to pick up some sweet candy and merchandise.
How do you prepare for Easter? Any tips for Easter egg hunting?
All year long, I practice my PEEPSONALITY but it really shines as Easter nears! I test out the newest recipes and crafts at home, adding only the best to our website and social media accounts, like Twitter, for our fans to see
I make sure the newest varieties like Pancakes & Syrup and Cotton Candy are perfectly packaged and shipped out to our fans across the United States. From a PEEPS-eye-view, I can easily spot each hidden Easter egg, so I am usually disqualified from all Easter egg hunts!
What do you want to find in your Easter basket?
I always hope to see the classic PEEPS Chicks and Bunnies in all colors as I 'peep' into my basket on Easter morning.
What's on your music playlist right now?
"The Chicken Dance," "Rockin' Robin," "The Bunny Hop," "Fly Away" (Lenny Kravitz), and "When Doves Cry."
After a long day, how do you relax?
I love chillin' with my PEEPS!