It's crunch time — again — for Mr. Peanut!
Planters fans may already be familiar with the dapper legume's need for speed. Earlier this year during Super Bowl LIII, Mr. Peanut zigged and zagged in his iconic NUTmobile through a suburban neighborhood. As Mötley Crüe's "Kickstart My Heart" blasted on the speakers, the commercial revealed Mr. Peanut was on a mission. He arrived on game day to save baseball legend Alex Rodriguez from eating blah eats with Planters' savory and salty snacks.
Now, Mr. P and his trusty NUTmobile are hitting the racetrack — and challenging the new 2020 Toyota GR Supra for a winner takes all racing event!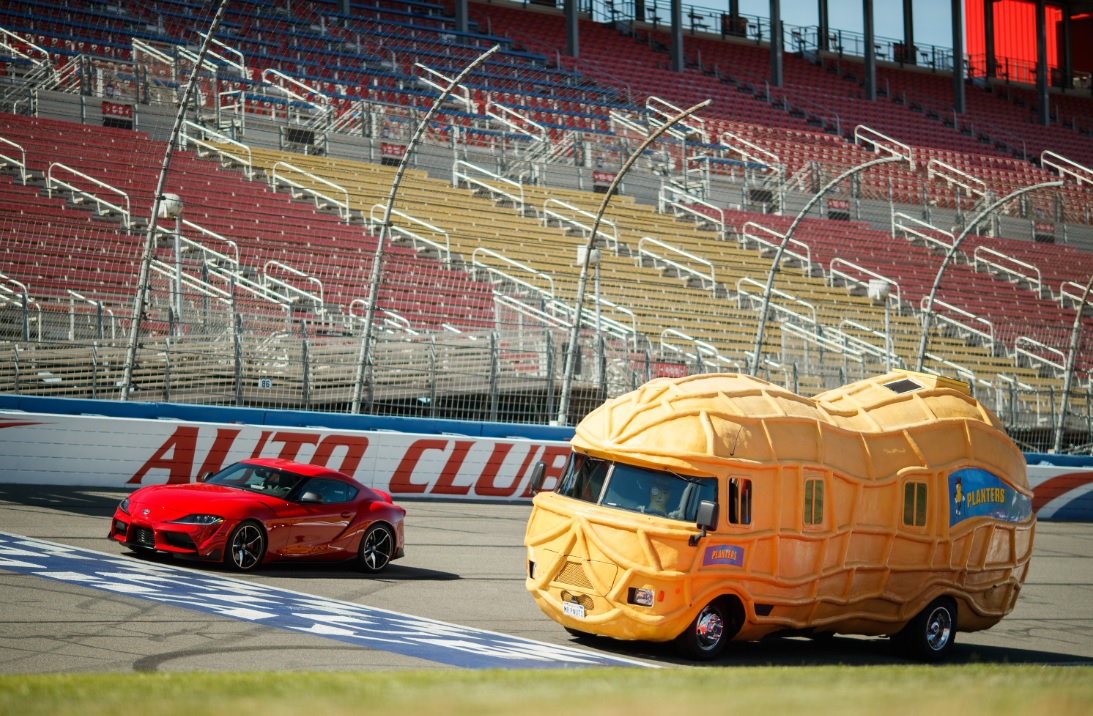 Why Is The Toyota Supra Racing Against A 13,000 Pound Peanut?
This is Toyota Supra's first race, ever. As all modern brands do, Mr. Peanut kicked the challenge off with a tweet to Toyota asking if they had the pinballs to race.
Toyota was taken aback. An established car company is getting asked to race against… A peanut? Granted, this is no ordinary peanut since the NUTmobile weighs in at 13,000 pounds but still. Toyota was intrigued and replied that if Mr. Peanut had something in mind they were game to do it.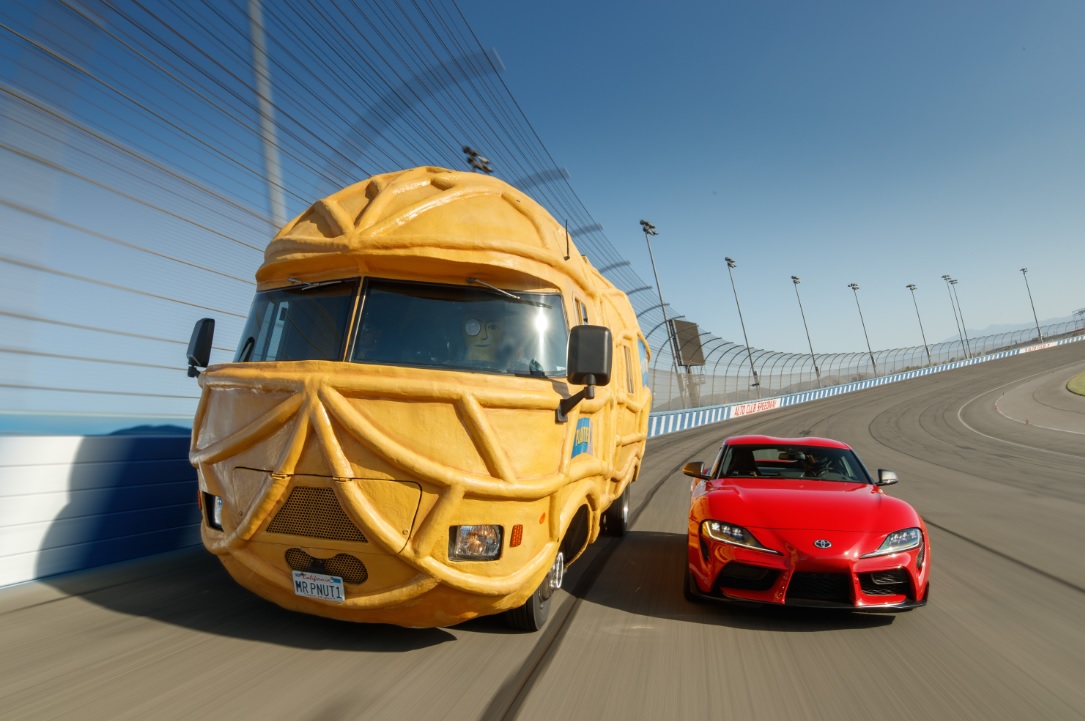 Off To The Races!
The NUTmobile and the Toyota Supra quickly agreed to race against each other on the track. The stakes were high with $5,000 awarded to the winner's charity.
The Toyota Supra had a 3.OL engine, inline 6, and a 335 horsepower. The NUTmobile had an engine of 6.OL and a V-8 engine. In lieu of horsepower, it brought peanut power — of the dry roasted, lightly salted fiberglass peanut shell variety.
The 103-year-old Mr. Peanut was behind the racing wheel against professional drifter Fredric Aasbo. Will one, or the other, crack first? We're about to find out!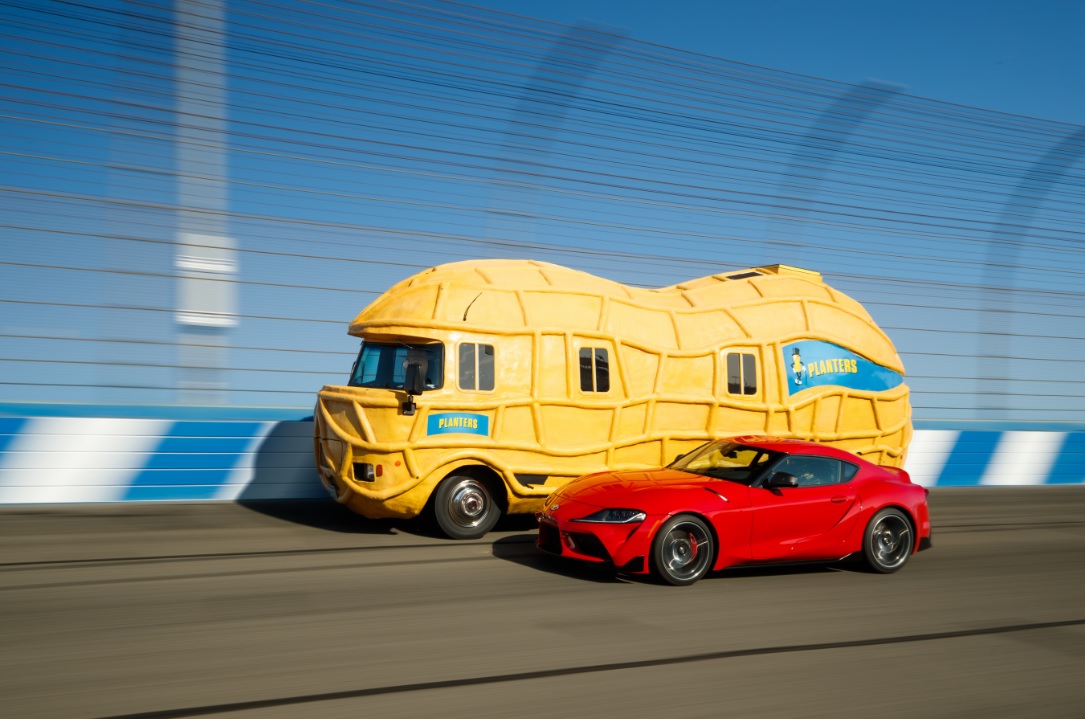 On Your Mark, Get Set… GO!
Not surprisingly, the lighter Toyota Supra sped out of the starting gate ahead of the NUTmobile. The NUTmobile, driving at a somewhat slower pace than when he was en route to A-Rod, took a slow and steady wins the race approach.
It was so steady Aasbo was able to stop for a quick snack — Planters peanuts! — during the race.
Snack time accidentally went into overtime. Before Aasbo knew it, Mr. P had bypassed him on the track!
And The Winner Is…
As the Toyota Supra sped up to catch up with the NUTmobile, Mr. Peanut put the massive car into overdrive. The two automobiles were neck and neck until the last second. Winning by only a couple of peanuts was… the Toyota Supra!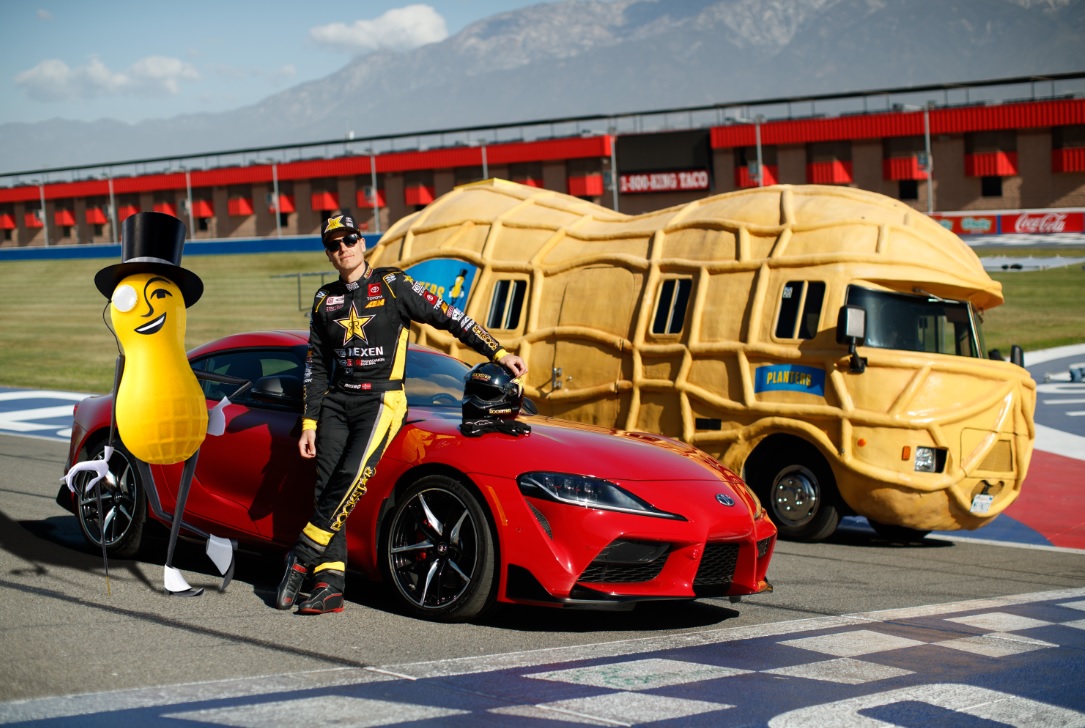 Aasbo and Mr. Peanut ended the race on great terms. Toyota made a donation to the American Heart Association and Bob Woodruff Foundation while Mr. P gave to The Movember Foundation.
What a race! Cashew later, Mr. Peanut and Toyota!