Hold our beer cheese. A member of royalty is attending the 2021 Cheez-It Bowl on December 29th between Clemson University and Iowa State University.
PopIcon, as always, is sharing a sneak peek at this crowning achievement in Cheez-It history. Presenting His Royal Cheezness… Prince Cheddward!
Meet Prince Cheddward
Over the last century, Cheez-It has celebrated its real cheese, and super crunchy, dynasty. Birthday celebrations are in order as the snack favorite enters its 100th year. This includes encouraging the competing teams of the Cheez-It Bowl to play like kings. It also means a proclamation is due for a mascot fit to carry on this legacy.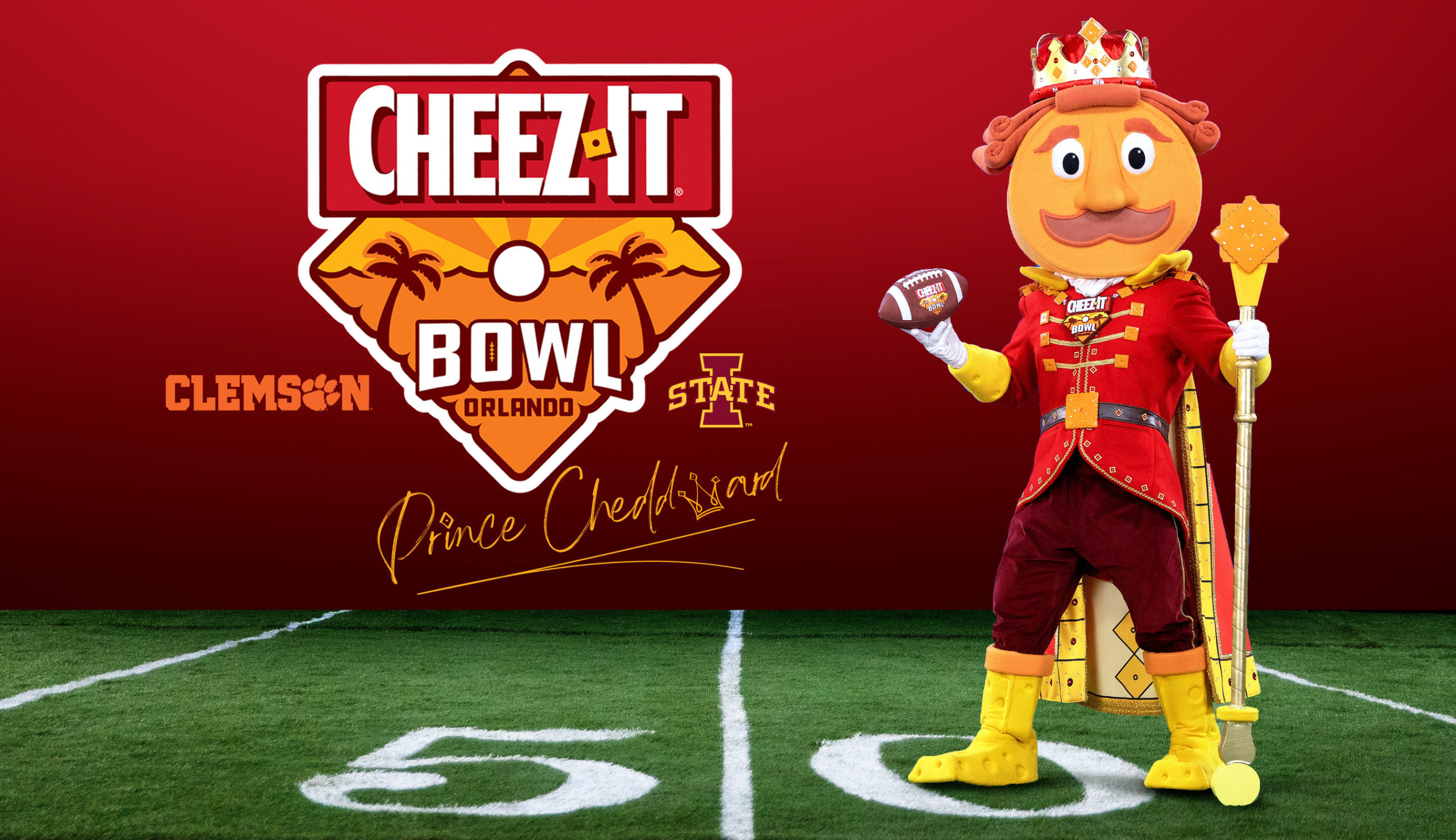 Enter Prince Cheddward, the orange-blooded heir to the Cheez-A-Lot throne.
Prince Cheddward's aesthetic is regal from his cheese-wheel head to his Swiss boot-clad toe. Instagram is teasing his game day arrival as one where Prince Cheddward will ride a horse into the football stadium.
His Royal Cheezness will truly make a statement, and not just because he's wearing a crown and carrying a scepter. Prince Cheddward is the Cheez-It Bowl's first-ever mascot and part of a line-up of iconic college football characters.
Prince Cheddward brings more to the Cheez-It Bowl than his majestic presence. He's just as excited about bowl game season as everyone else and will be enthusiastically cheering on the teams.
"We kicked off our 100th year with a Cheez-Itennial cake and knew we had to keep the party going until the very end," says Erin Storm, Brand Senior Director for Cheez-It.
"Over the past three years, the Cheez-It Bowl has seen unbeatable action, towering Cheez-It Box seats, and end zones packed with animatronic cheese wheel fans. This year calls for the royal treatment. Prince Cheddward takes team spirit to the next level, and we can't wait for him to help bring fans into the fun of the cheesiest bowl game of the season."
Where Can I Watch the Cheez-It Bowl?
Grab your favorite Cheez-It snacks and get ready for game day fun! You can watch the Cheez-It Bowl on December 29th at 5:45 PM EST on ESPN. Check out Prince Cheddward's stadium debut and cheer along your favorite teams with the Cheez-It Bowl's first-ever mascot.
Don't forget to follow along on social media! Give Prince Cheddward a regal wave — er, tweet or like — on Cheez-It's Facebook, Twitter, and Instagram accounts.