Love is in the air this Valentine's Day for fans of Carvel Ice Cream's Fudgie the Whale and Cookie Puss!
Now through February 15th, Carvel has whipped up LTO take-home ice cream pints inspired by the two icons. Available only through delivery (like DoorDash and UberEats), it's impossible not to fall head over heels for the sweet treats.
What's In A Fudgie the Whale Themed Pint?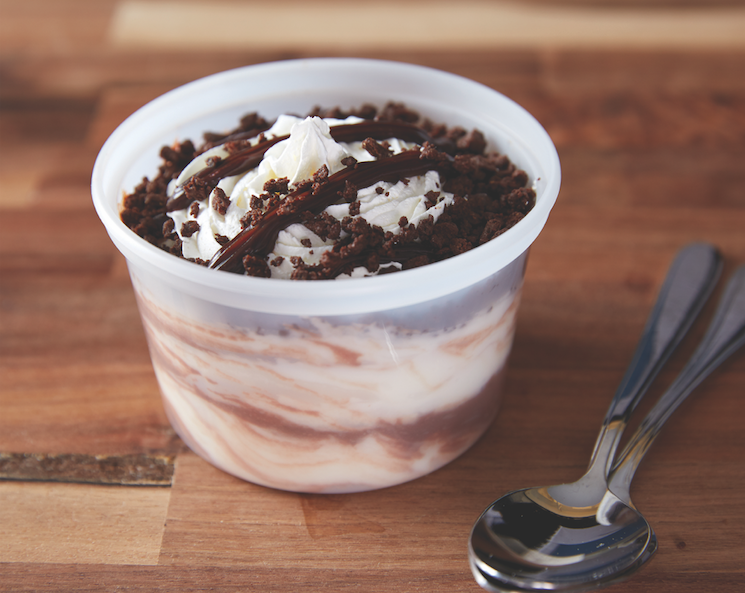 Fudgie's pint is a bite-sized version of the actual Fudgie the Whale cake. Inside, there's two layers of chocolate and vanilla ice cream. A layer of Carvel's signature Crunchies — the key ingredient! —is layered in between the ice cream and chocolate.
How About A Cookie Puss Pint?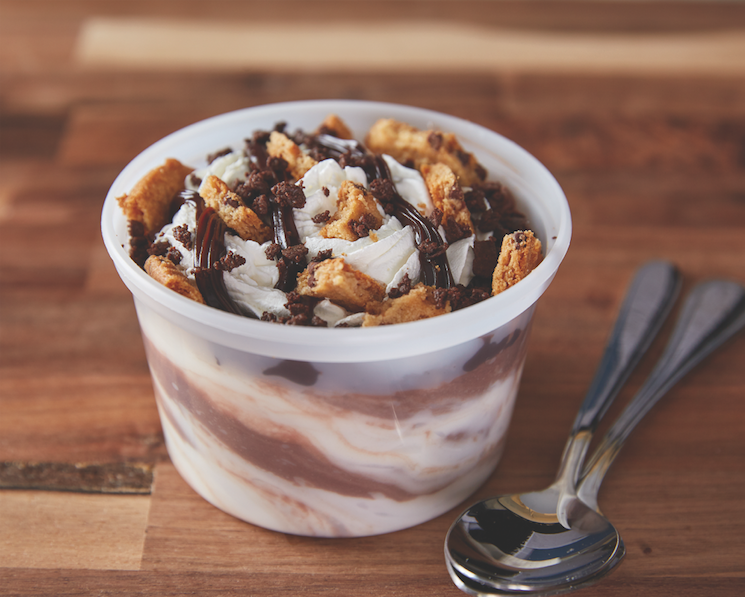 We've got another round of chocolate and vanilla ice cream separated by Crunchies in this pint. Watch out for that Cookie Puss cake twist! Crumble chocolate chip cookie tops this delish confection.
What Makes Fudgie The Whale And Cookie Puss Simply Irresistible?

How do we love thee, ice cream icons? Let us count the ways — but first, let's get a history lesson about each character.
We can't begin without addressing the age-old question: are Cookie Puss and Fudgie the Whale the same cake? (Short answer: nope!)
Fudgie the Whale turned 40 in 2017, and was inducted into the Madison Avenue Walk of Fame that same year. Tom Carvel, founder of Carvel Ice Cream, created Fudgie in 1977. Fudgie was originally supposed to celebrate Father's Day, but since then the vanilla and chocolate whale-shaped ice cream cake loaded with Crunchies has become a staple at every type of celebration.
Cookie Puss is a bit more mysterious in origin than Fudgie the Whale. The cake came shortly after Fudgie's 1970s creation. Cookie Puss is a space alien who hails from Planet Birthday. He's an extraordinary extraterrestrial who is also pretty yummy, too. Like Fudgie, Cookie Puss is a vanilla and chocolate cake with a cute clown face, ice cream cone for a nose, and cookies for eyes.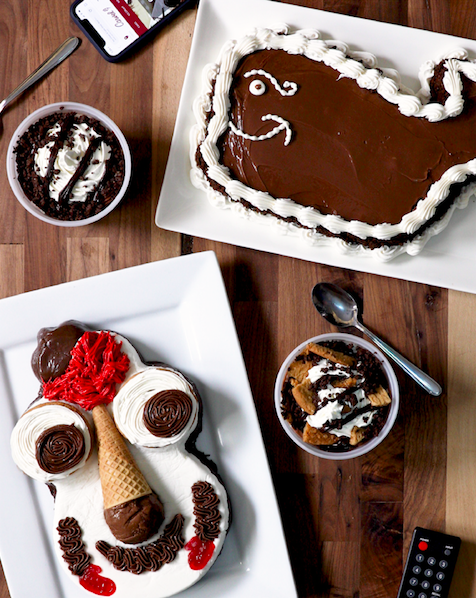 So, why do we love these two so much? Nicolle DuBose, Senior Director of Marketing at Carvel Ice Cream says they're pure nostalgia. "There's something wonderfully charming about Fudgie the Whale and Cookie Puss. Enjoying either ice cream cake takes you back to a time when things were a little simpler — when you were growing up. The taste of our soft ice cream combined with our signature chocolate Crunchies can't be beat."
Spreading The Love As Carvel Turns 85 In 2019
Carvel Ice Cream will celebrate their 85th birthday in 2019, and DuBose is pumped for all of the fun to come. The new LTO Fudgie and Cookie Puss pints for Valentine's Day put a spin on their iconic characters while remaining true to their roots.
"We're an ice cream brand for everyone." DuBose says, "Real ice cream for real people. And when it comes down to it, enjoying an ice cream treat is all about recognizing the big and small occasions in life. It's about connection and quality time with friends or a loved one over ice cream."
Gotta love that. Happy Valentine's Day!