Plenty of familiar brand mascots were spotted in commercials airing during Super Bowl LVII. As always, PopIcon is here to watch every Super Bowl LVII commercial and see which characters made a splash on game day.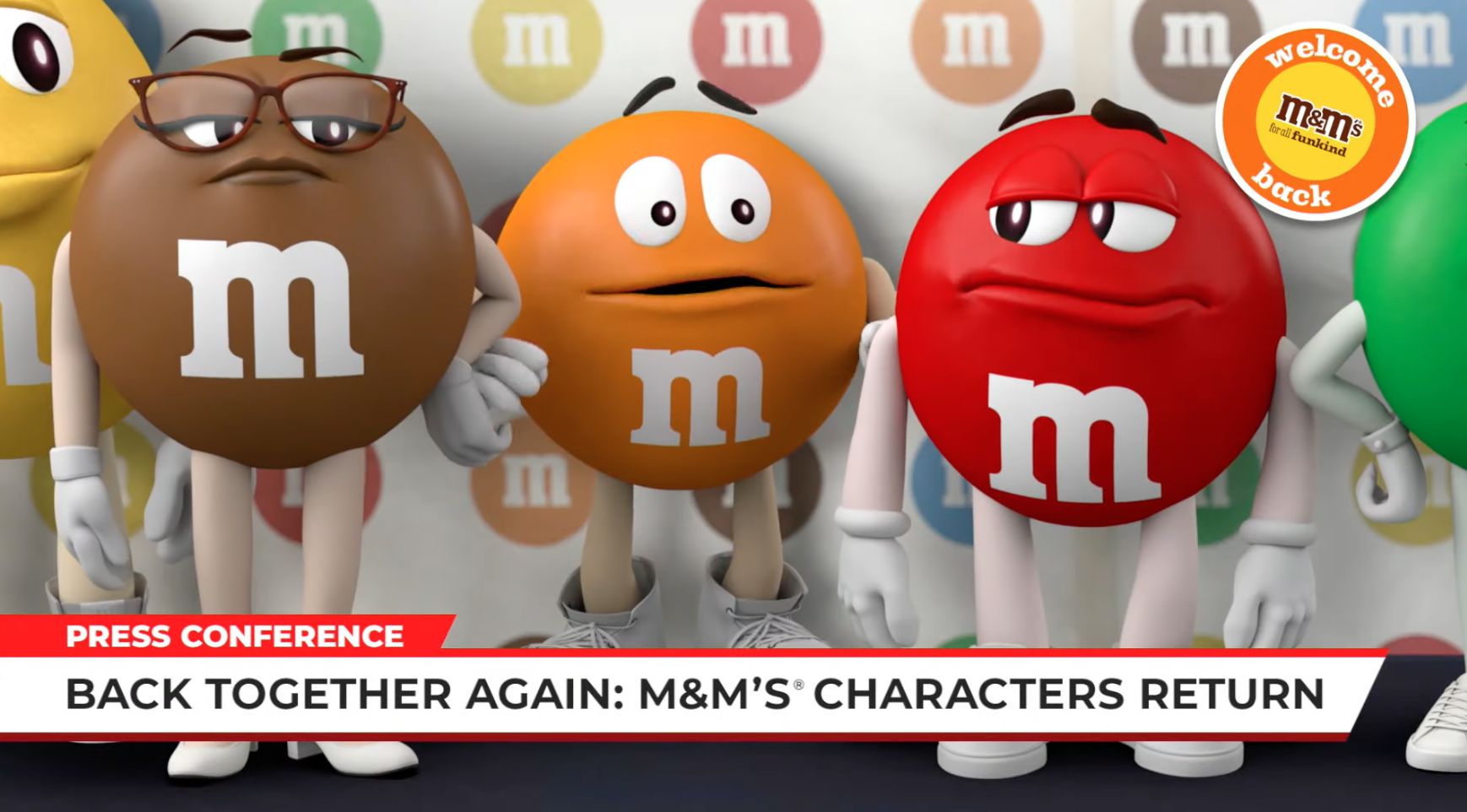 From weddings to roasts, here's every icon we saw during football's biggest night — along with some critiques on their appearances.
M&M'S | They're Back For Good
The M&M'S spokescandies kicked 2023 off on a bummer note with news the mascots would be on "indefinite pause" from the brand. In their place would be the M&M'S new "Chief of Fun" Maya Rudolph who promised a new kind of "ma&ya's" candies.
We had initially speculated this was a marketing stunt leading up to Super Bowl LVII and we were right. In the game day spot, it turns out "ma&ya's" are candy coated clam bites. At the end of the commercial, Red lifts up a "help!" sign in the background.
Shortly after the commercial aired, M&M'S announced the full return of the spokescandies. And, as we predicted, Red was never happy about the plan to pause their mascot duties.
"I can't believe we were actually put on pause," he fumes during their press junket.
Review: Did both spots feel lacking to anyone else? After all the hype, we could have used more spokescandy hijinks. It would have been fascinating to watch Rudolph purge the candy brand into clammy madness. Maybe one — or more — spokescandies could have been seen working together to overcome their new boss and restore the chocolate back in M&M'S. And how did they get from slipping in "help!" signs to running a press conference?
E*TRADE | Wedding
The E*TRADE Baby came out of retirement in 2022. Now he's the best man in weddings and discussing how to get financially ready for everything. Life moves pretty fast for this character.
Review: Hmm, are we supposed to come away from watching this spot even more confused about what's going on with this character? It's helpful to read the context of the E*TRADE video caption when viewing this commercial. Otherwise, you might feel like the overall premise of the spot "your next steps are walking down the aisle and it pays to have a good portfolio" doesn't really add up.
Planters | The Roast of Mr. Peanut
Led by Roastmaster General Jeff Ross and featuring an all-star lineup of comics, The Roast of Mr. Peanut was a roast of Planters icon, Mr. Peanut. Nothing was left off-limits from teasing Mr. Peanut's wardrobe to cracking jokes about the legume's habit for ruining certain foods like brownies.
Review: The Roast of Mr. Peanut can be viewed in full on YouTube — and it should be watched in one sitting, too. While this roast makes for great bite-sized clips, we didn't see nearly enough of them playing during Super Bowl LVII. Good to see this icon is alive again!
Bush's Beans | Go Bigger
It's time to roll that beautiful bean footage! Peyton Manning joined Jay Bush and Duke Bush to go bigger when it comes to exploring all the possibilities of beans. It's not just stirring beans on a stovetop. It's celebrating and devouring beans and all their fiber and protein.
Review: Did this commercial air during the Super Bowl? Or was this a spot we had been briefed on ahead of time and knew to anticipate? After a week of UFO sightings — we're not making this up — seeing a bean-shaped sun rising in the morning is pretty cool. Keep rolling that beautiful bean footage, everyone!
That's been a wrap on Super Bowl LVII! We'll see you in 2024!