This fall, three spooktacular characters return to breakfast aisles…
They are the Monster Cereals, with chilling new cereal box designs and styles!
Count Chocula, Boo Berry, and Franken Berry are creeping it real this autumn with the return of Monster Cereals. The fan favorite cereal trio from General Mills will be available all throughout October at your favorite major grocers and retailers.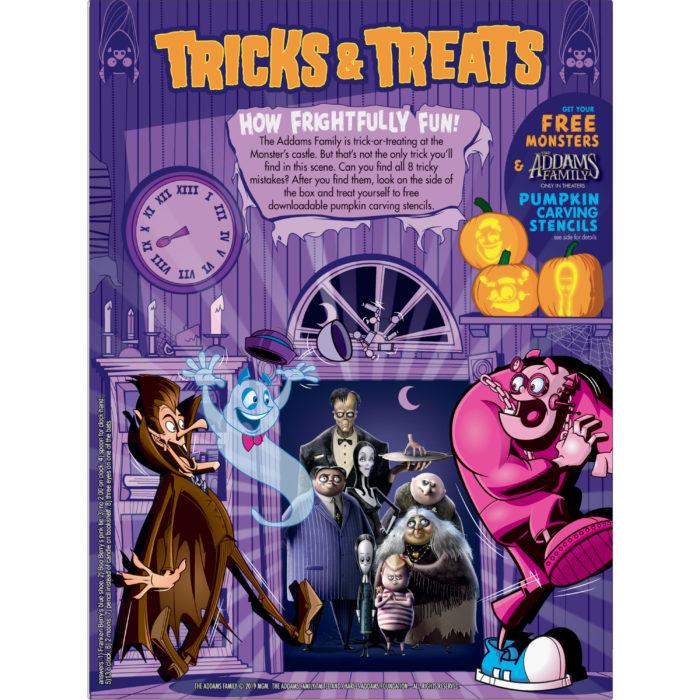 Monsters Cereals x The Addams Family
This year, the Monsters have a spooky twist up their sleeves. In celebration of The Addams Family in theaters October 11th, each specially marked Monster Cereals box includes free carving stencils available to download. Print the stencil and follow the pumpkin carving rules on the Monster Carving site. Carve a pumpkin with one of your favorite chilling Monsters or Addams Family members, like Morticia or Uncle Fester!
Who Are The Monsters?
For more than 40 years, the Monster Cereals have served nutritious tricks and treats at the breakfast table. The original trio — Count Chocula, Franken Berry, and Boo Berry — all debuted within a few years of each other. To this day, they all still live together at the Count's castle.
Siri, locate Count Chocula's castle. Monster lore has it that the castle is high up on a mountaintop near the edge of the clouds…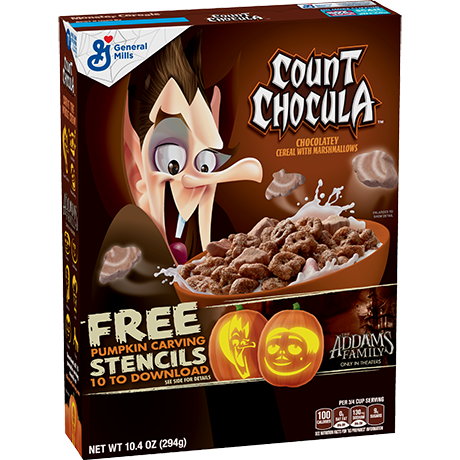 Count Chocula
You can't help but sink your teeth into Count Chocula. Upon its 1971 debut, Count Chocula was the first chocolate-flavored cereal on the market. Loaded with chocolate marshmallow-shaped bats, this cereal and its iconic vampire mascot is still a scream with fans. Count Chocula's pastimes include having friendly arguments with Franken Berry about who has the best cereal and only drinking… milk.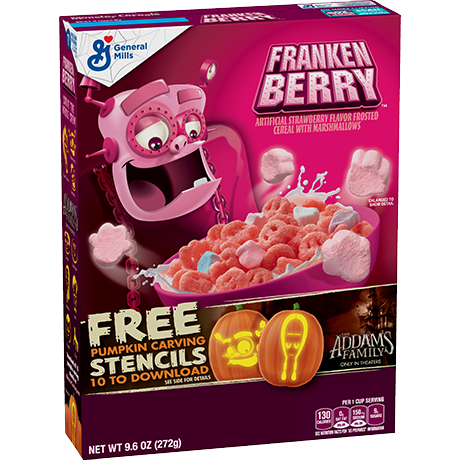 Franken Berry
Franken Berry also debuted in 1971 with a cereal the polar opposite of Count Chocula. This cereal is brightly colored and berry-flavored. It matches the electric pink Franken Berry perfectly, inspired by Boris Karloff's Frankenstein.
Franken Berry may be giant, but he's completely harmless. In fact, he was actually very spooked by Boo Berry when they first met!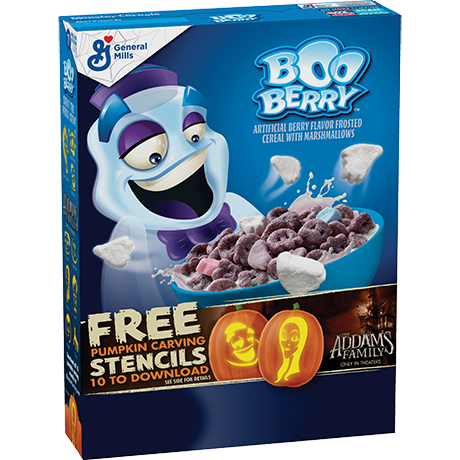 Boo Berry
What's a trio of monsters without a ghoulish pal? Boo Berry is the resident ghost of the group. He, and his blueberry-flavored cereal, moved into the Count's castle in 1973. Boo Berry was initially kicked out by Count Chocula and Franken Berry, dismayed at the prospect of competing with another cereal, but he always found a way to float back to the gang.

The Seasonal Sensation of Monster Cereals
Believe it or not, there was a time when one could buy a box of their favorite Monster Cereals year-round. Since 2010, the Monster Cereals have moved to become a seasonal cereal sold only during October for Halloween. Our Monsters find a way every year to chill and thrill fans, which makes them all the more beloved as the decades pass. Cheers to all the gourd times ahead!