Everybody has that one must-visit place on their list when they go to New York City. For some, it's heading to Times Square while others go on a tour of the Statue of Liberty. Me? This year, while I was in the city for #AWNewYork, I knew I wasn't leaving the Big Apple until I visited the Kellogg's NYC café.
Little did I know I would get to tour the space, too! Come along with PopIcon as we check out all the happenings inside this brilliant breakfast hangout.
Located on 31 E. 17th Street, Kellogg's NYC has been open by Union Square Park since December 2017. Previously, the space was based in Times Square from July 2016 until late summer 2017.
Who decided on New York City to open up shop, anyway?
"We picked New York because it's the heartbeat of the country," Sandra Di Capua. Di Capua heads Co.create NYC, a collaborative development firm that partners with major brands to create experience-based retail spaces. "This city is about food and people. It's the right place to make a splash for cereal."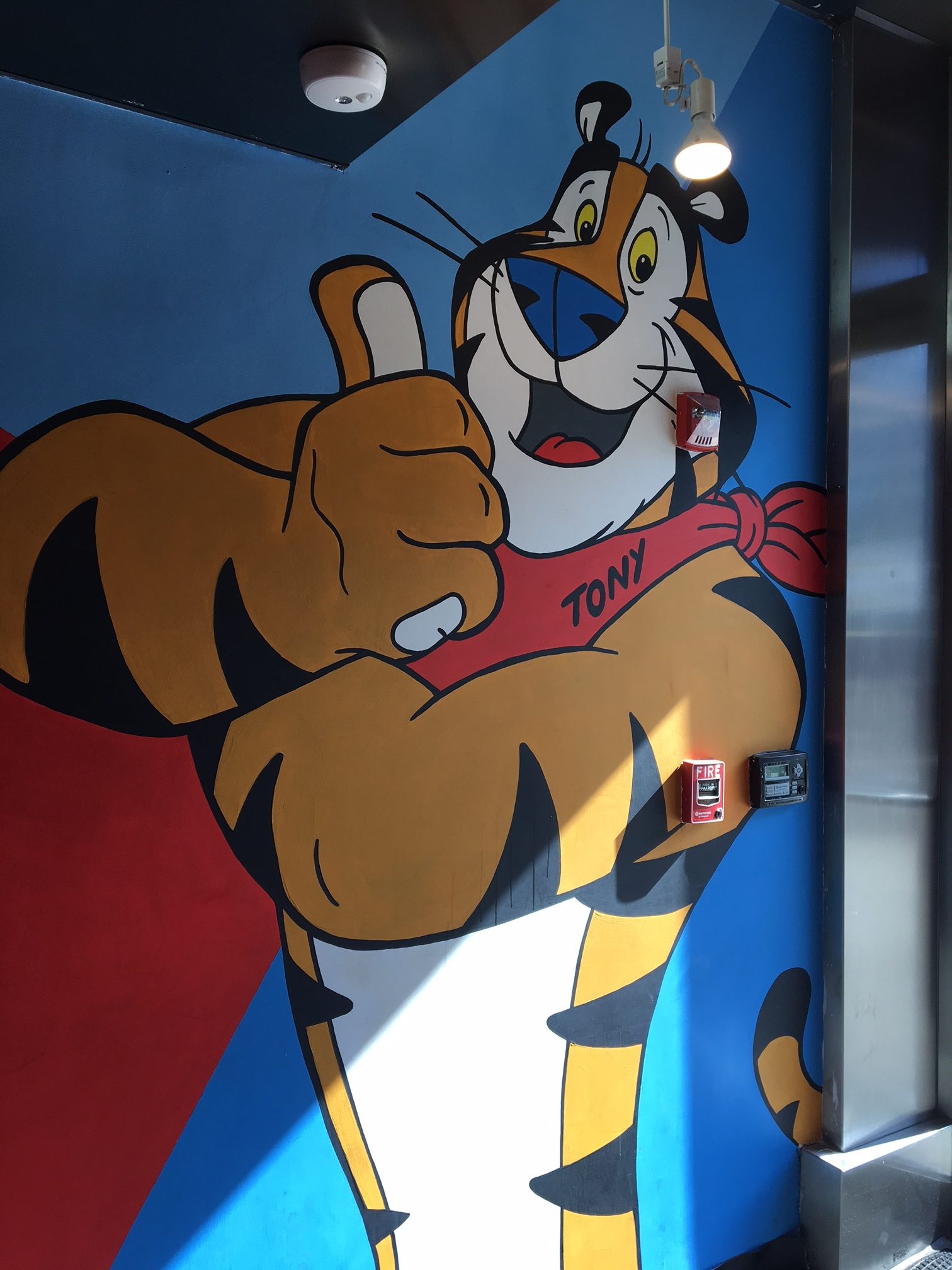 Brightly colored characters greet visitors at the building's entrance.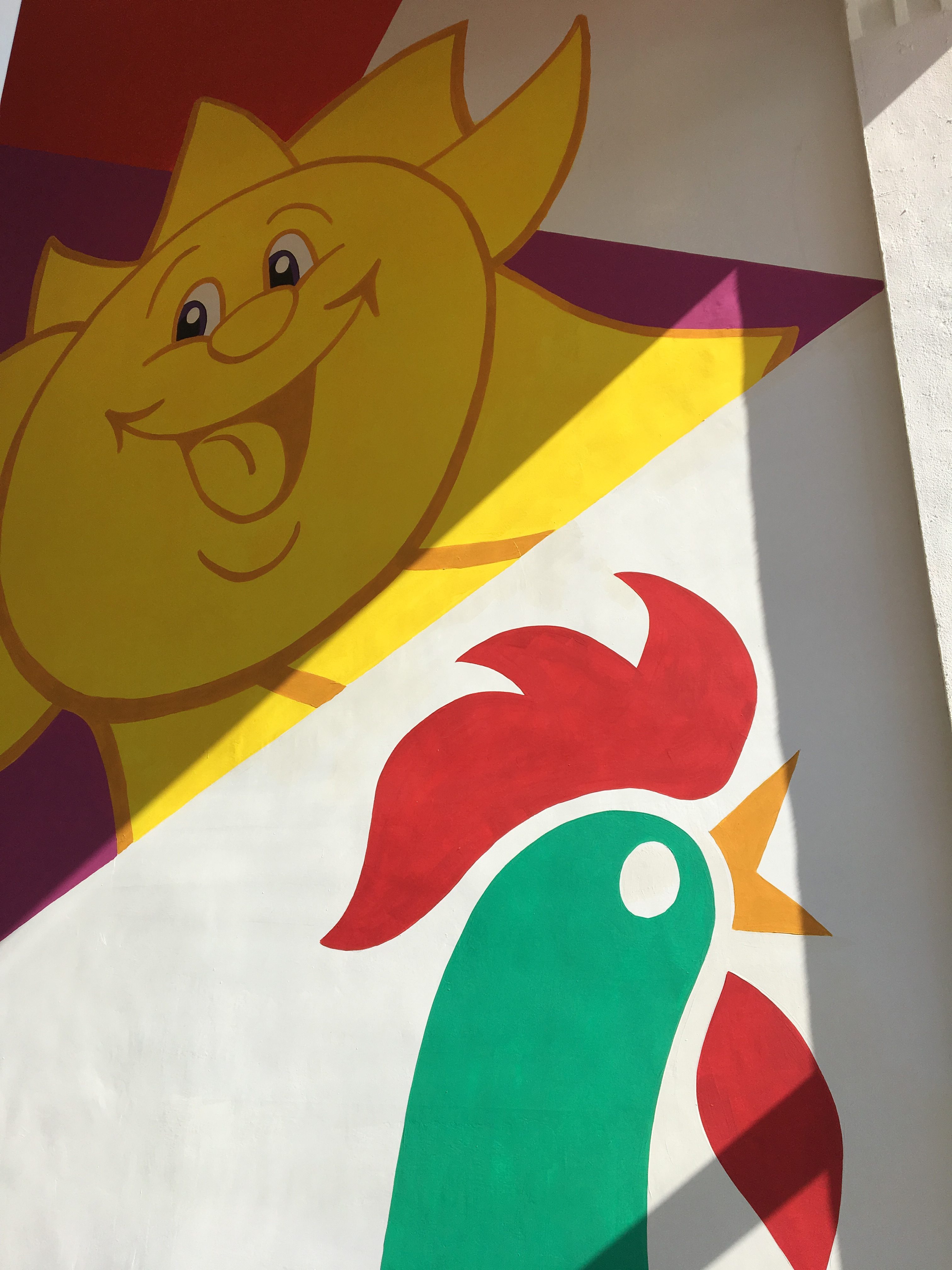 You'll notice Tony the Tiger, Sunny the Sun (from Raisin Bran), and Froot Loops' Toucan Sam on your way up the stairs to the main floor. These icons are all excited to see you have arrived!
The floor space at Kellogg's NYC is an open layout plan. "We designed it with the home in mind," Di Capua says, "There's a dining room, kitchen, living room, and WiFi to hook up to while working. It's the ultimate New York apartment."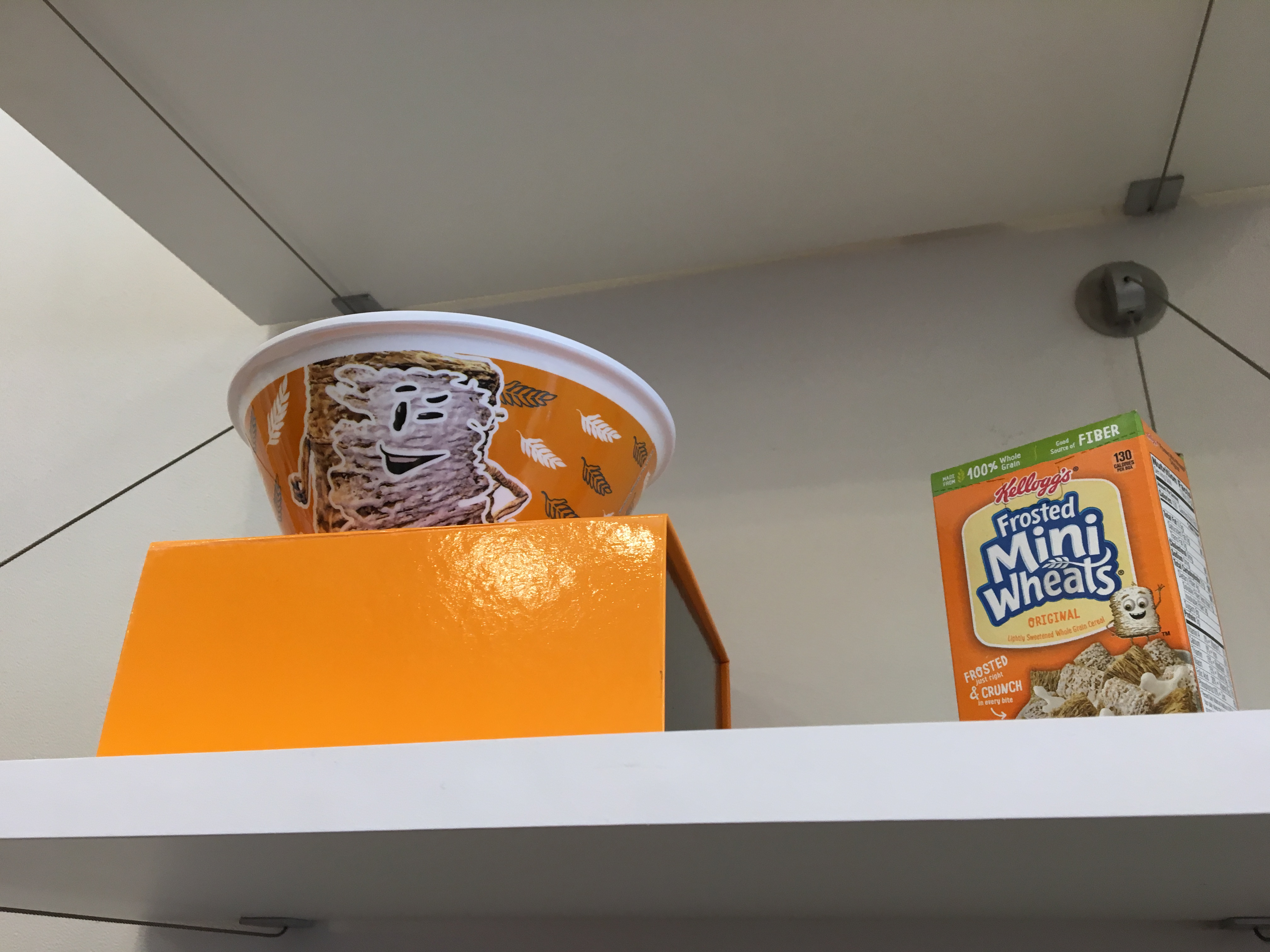 I'm not a New Yorker, but I think Kellogg's NYC has set the bar for New York living.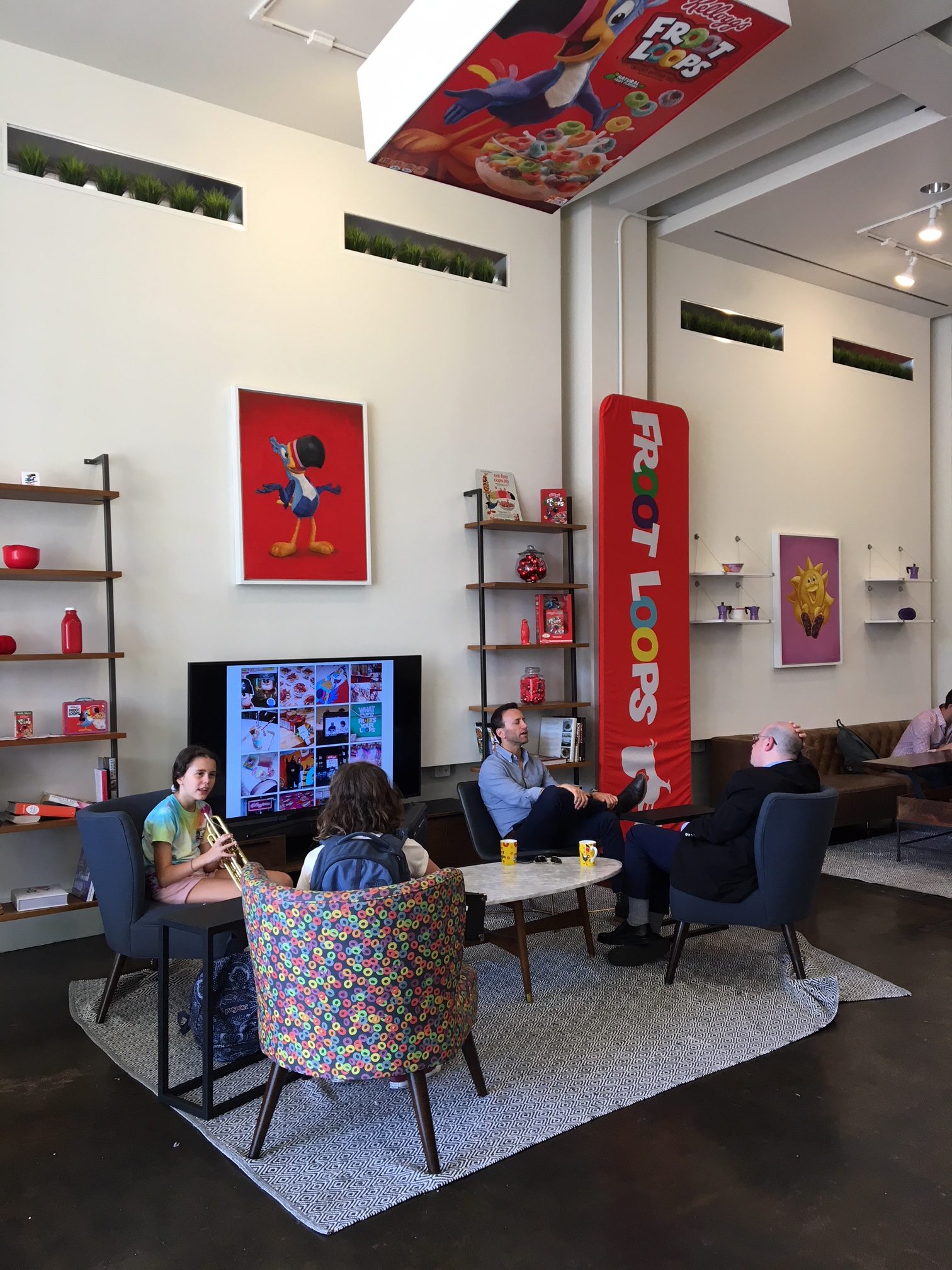 Each "living area" is character themed. Here's a look at the section designated for Froot Loops. Check it. We've got a giant cereal box installation on the ceiling, framed images of Toucan Sam, vintage Froot Loops merch on the shelves, and places to sit. Look closely at that chair's design — yep, those are Froot Loops.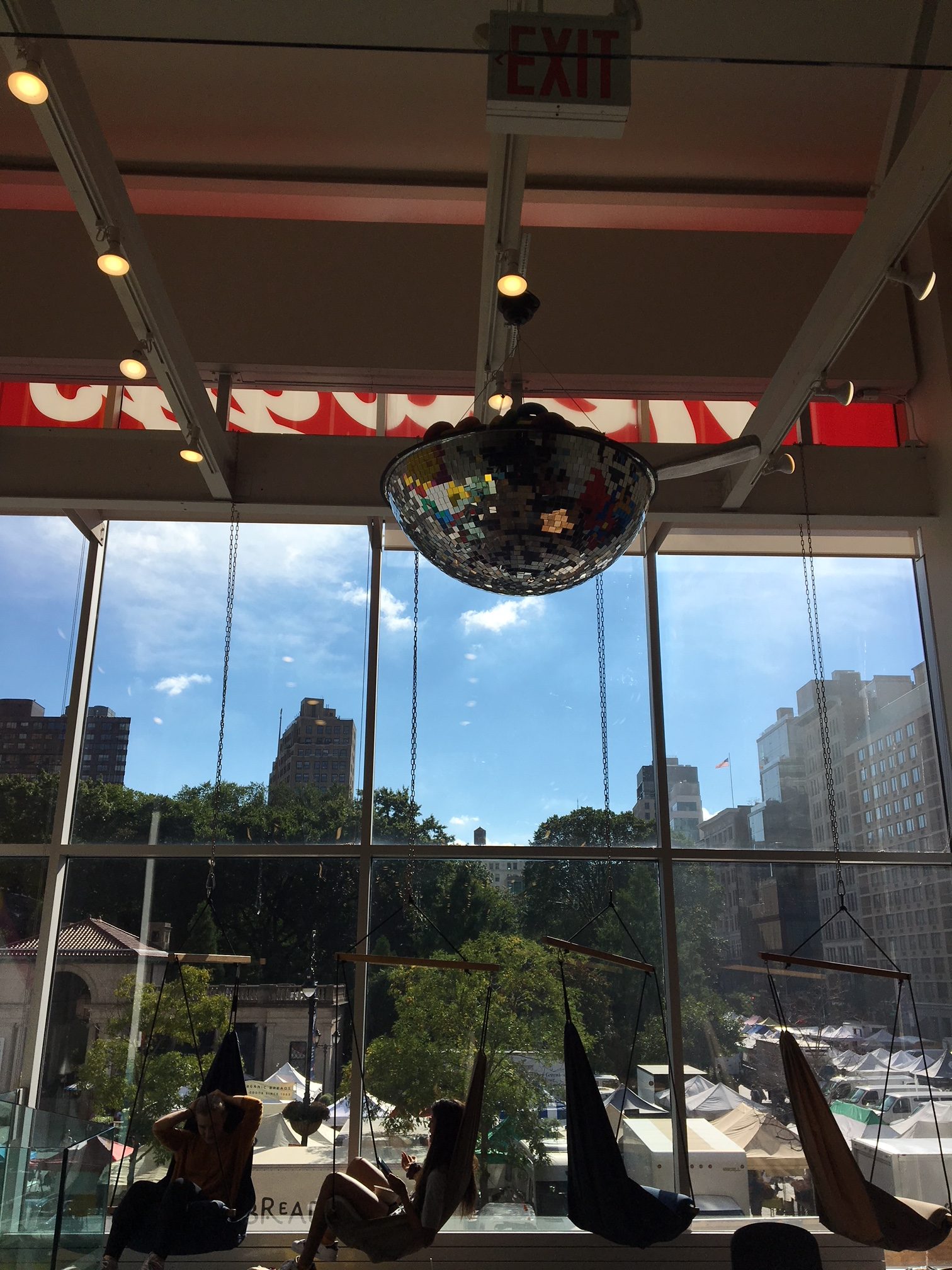 You can also lounge in a hammock with a view. What's that glittering disco ball-esque shape overhead? That's a bowl of cereal with a spoon sticking out.
During my tour, Di Capua showed me a stairwell lined with framed vintage Kellogg's advertisements. I might have been giddier to see these original Leo Burnett proofs than I was to eat a bowl of cereal!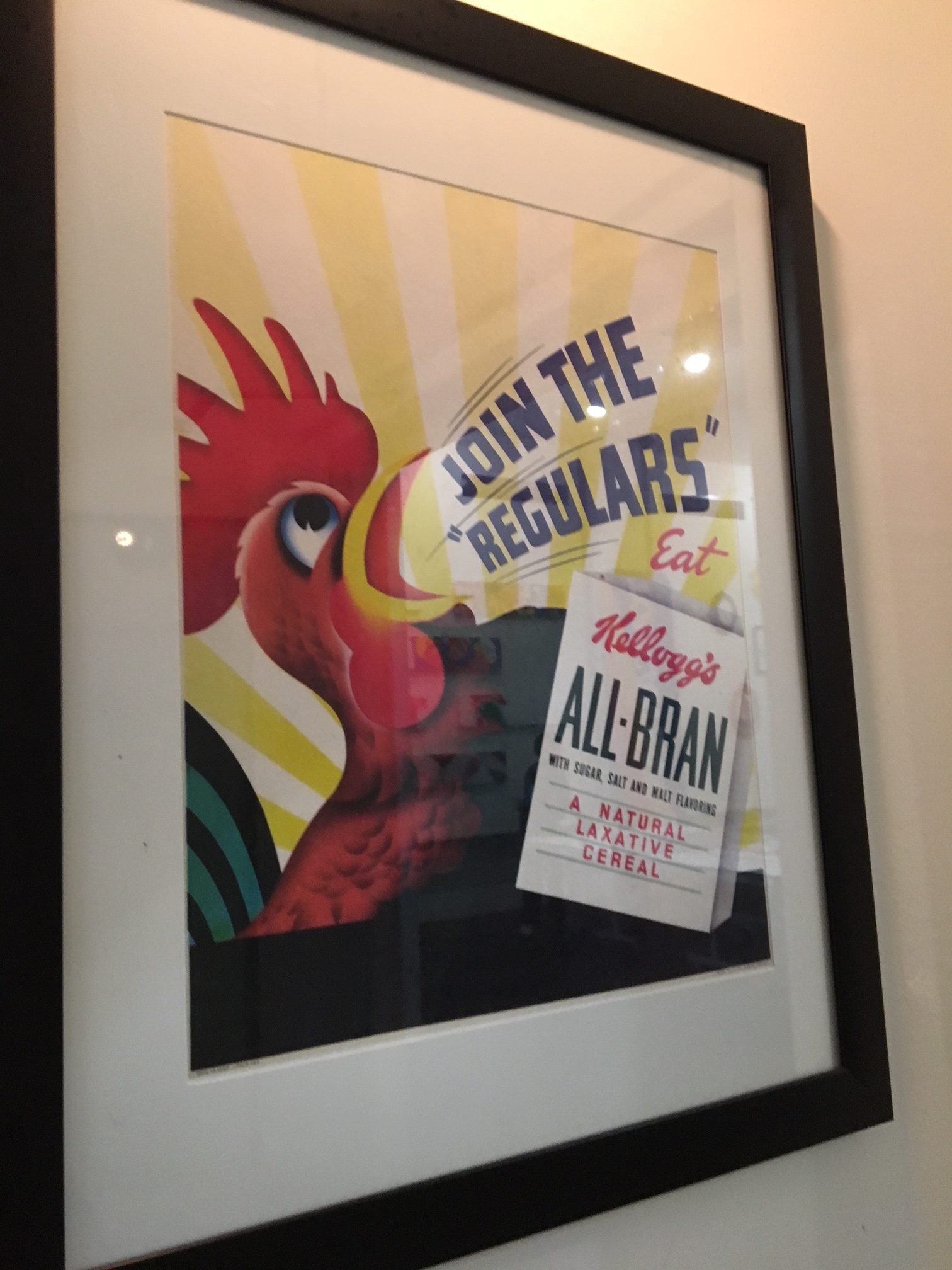 Cornelius Rooster is loudly and proudly waking up breakfast enthusiasts to start their day. I love this artwork — look at his bold colors!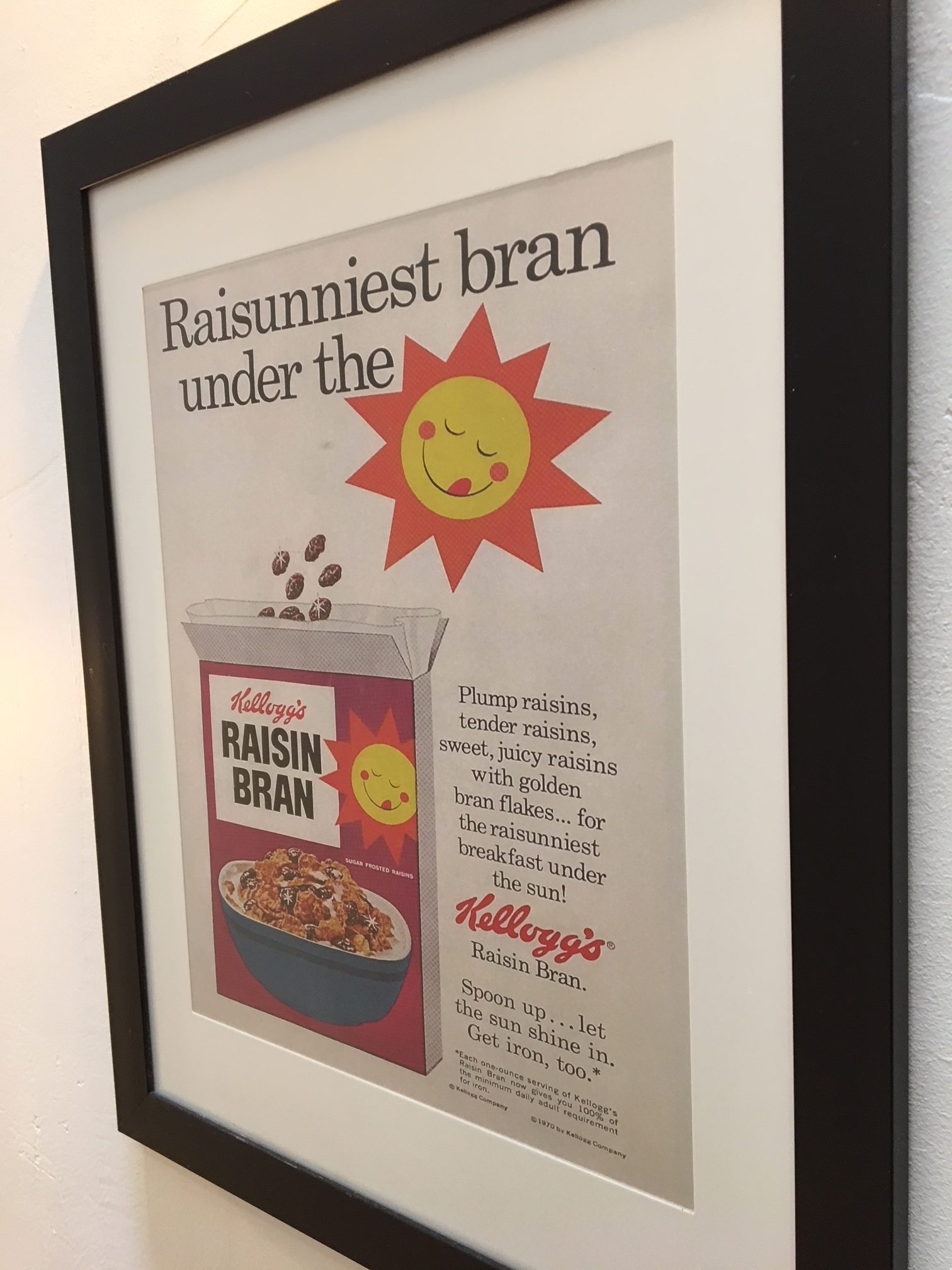 Here we have a rare glimpse of Sunny the Sun in his younger years, advertising the most "raisunniest" bran under the sun.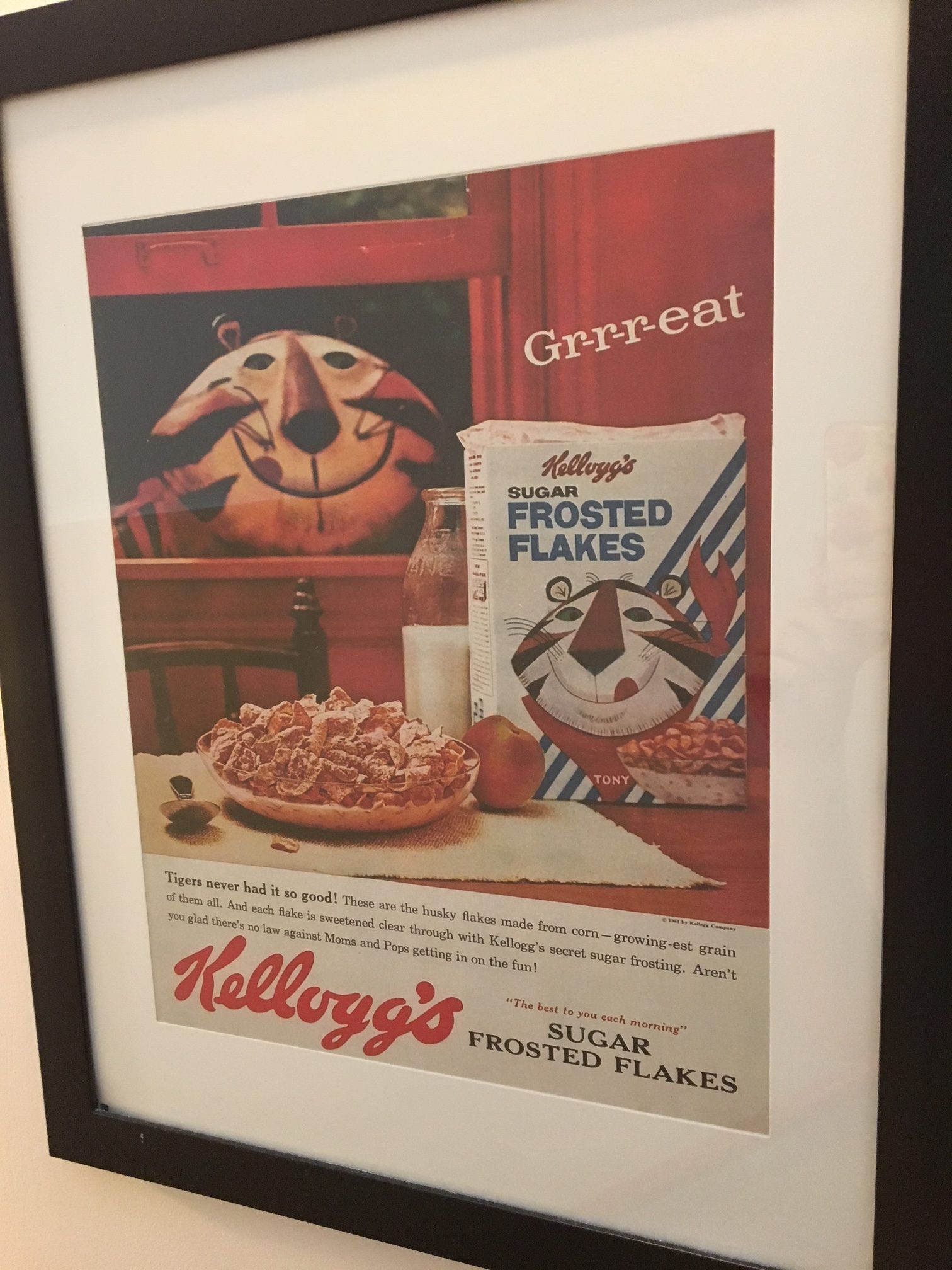 Check out Tony the Tiger peeking into the window at Sugar Frosted Flakes. If you look closely, you'll see his tongue is sticking out. Priceless.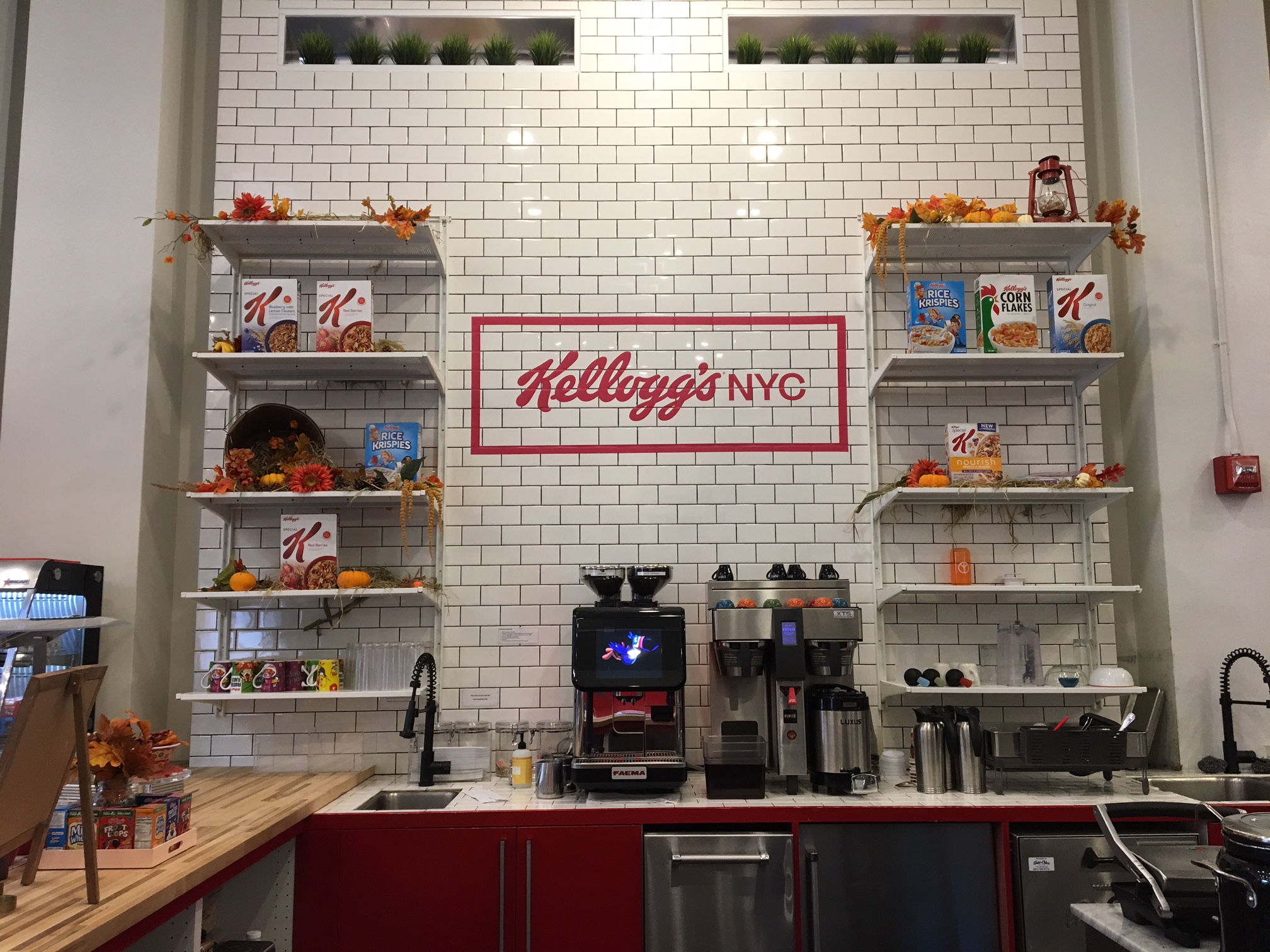 Alright, let's get to where the action is: the breakfast bar!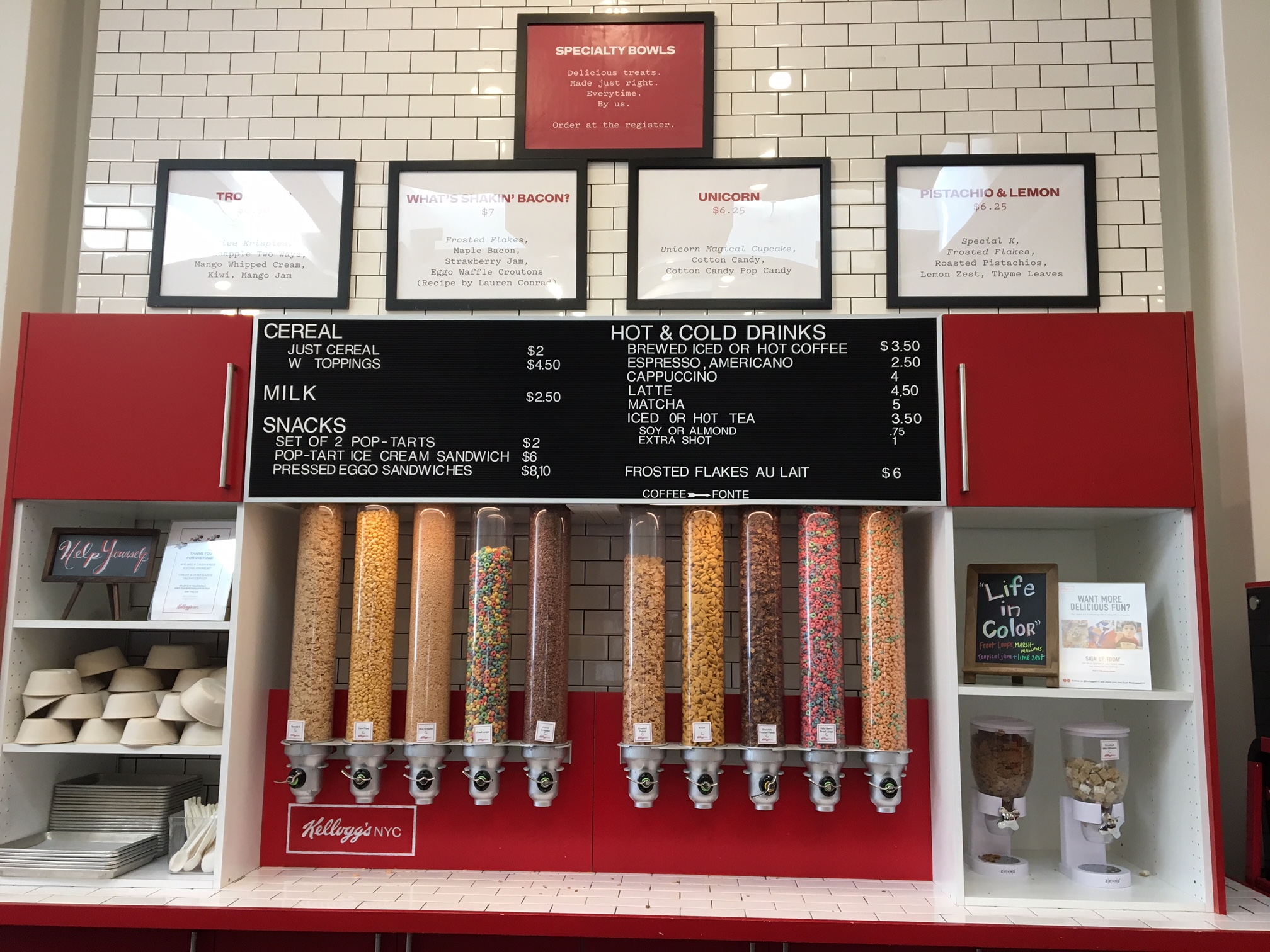 What's on the menu? You can choose between four pre-designed bowls. Currently, these include What's Shakin' Bacon?, Tropicalia, Unicorn, and Pistachio Lemon. Or, you can shake it up and DIY your breakfast. Cereal selection options, right here.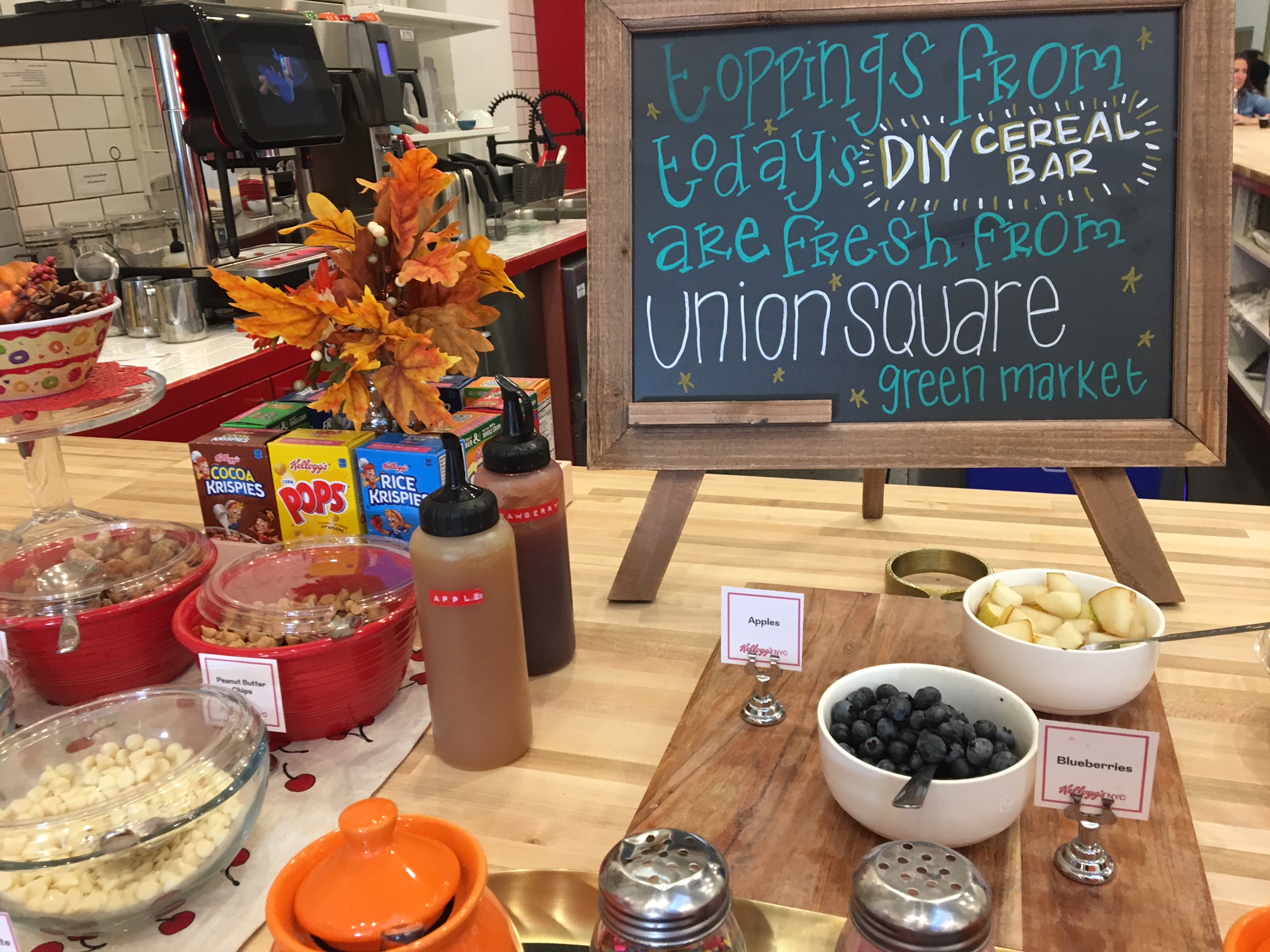 Add your own toppings! There's a little something for everyone here. Fruits like blueberries and strawberries and white chocolate chips and peanut butter cups if you're craving something sweet. Coconut flakes and graham cracker crumble are also on deck to top off your tasty creation.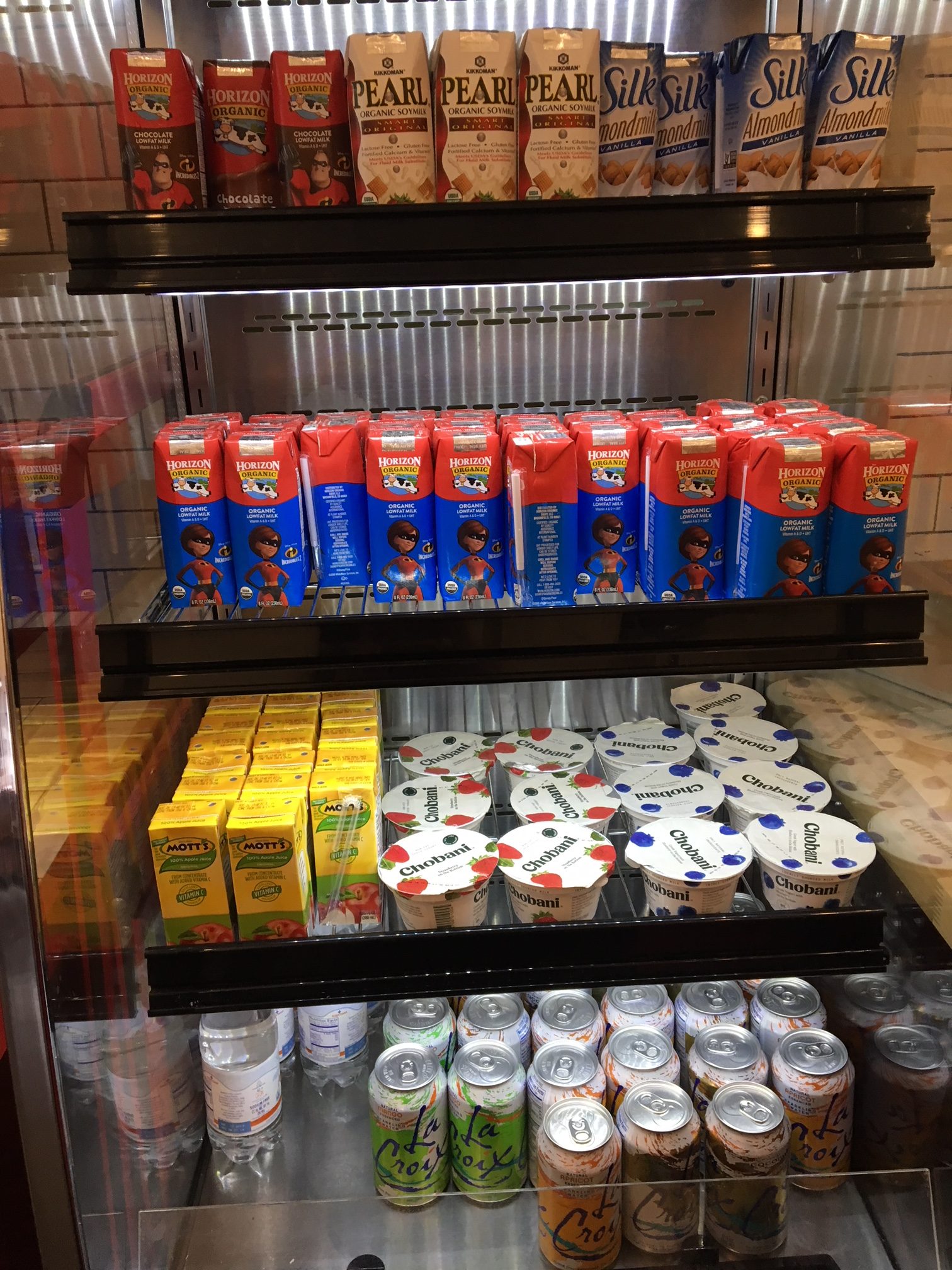 Don't forget the milk, or any other beverages you want to sip on!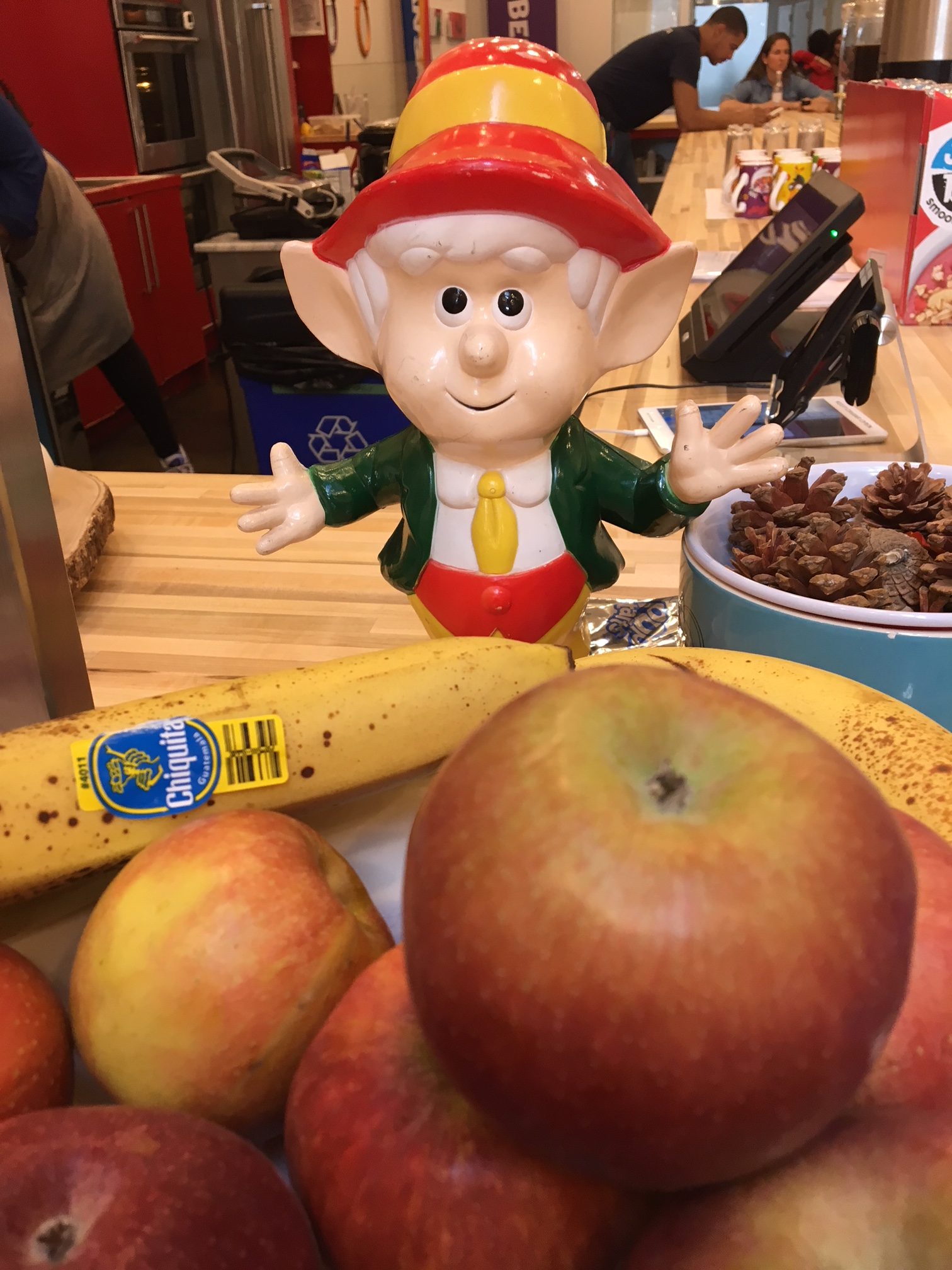 Not a big cereal fan? That's okay! There are also Pop-Tarts available, and Ernie Keebler presides over the fruit for sale. (Likely not intentional placement for the figurine, but I thought it was clever.)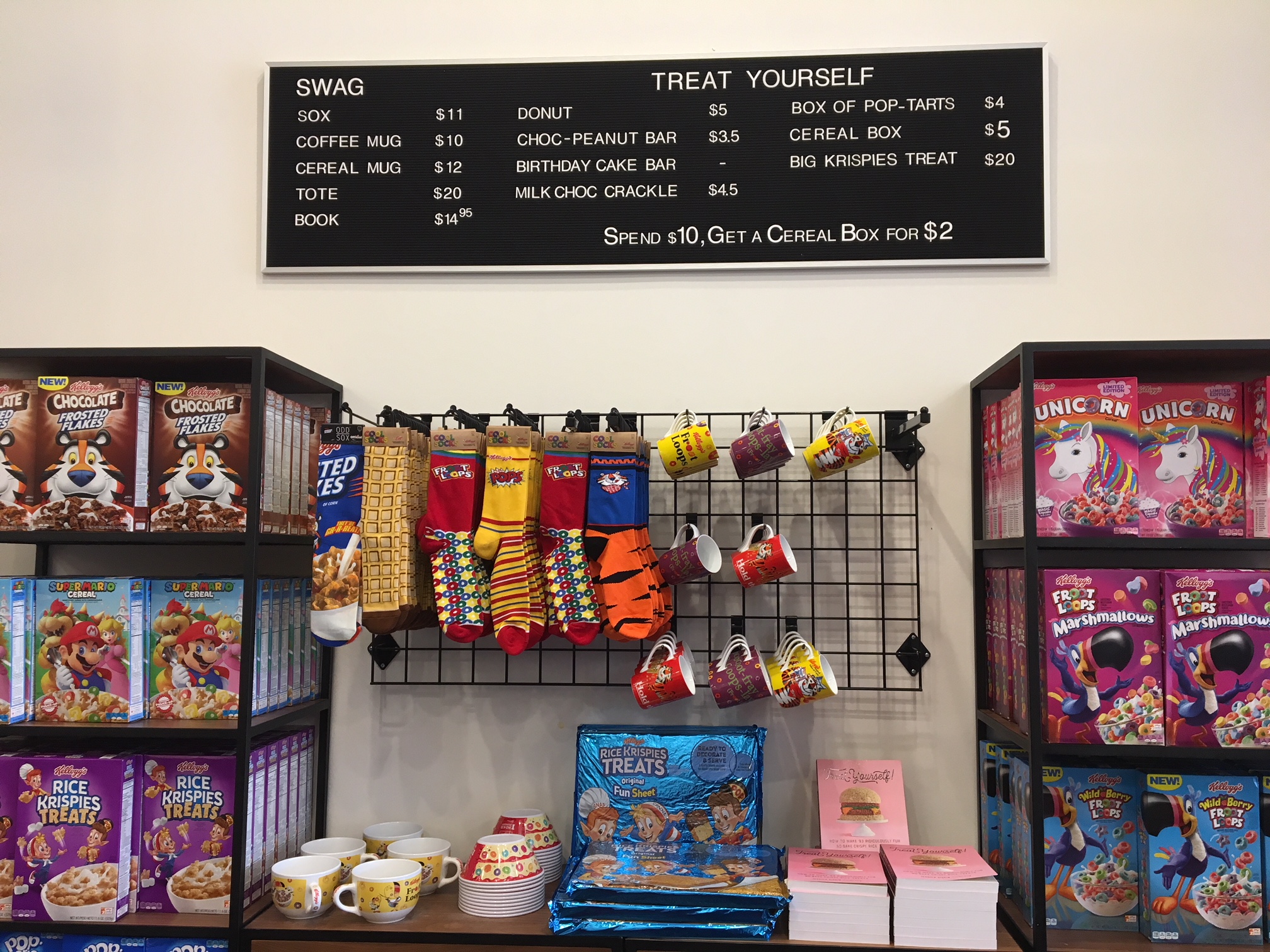 Once you've finished lounging and enjoying your cereal, it's time to head out… but don't forget to grab some swag before you leave! Treat yourself with socks, mugs, cereal boxes, and the biggest Rice Krispies Treats ever.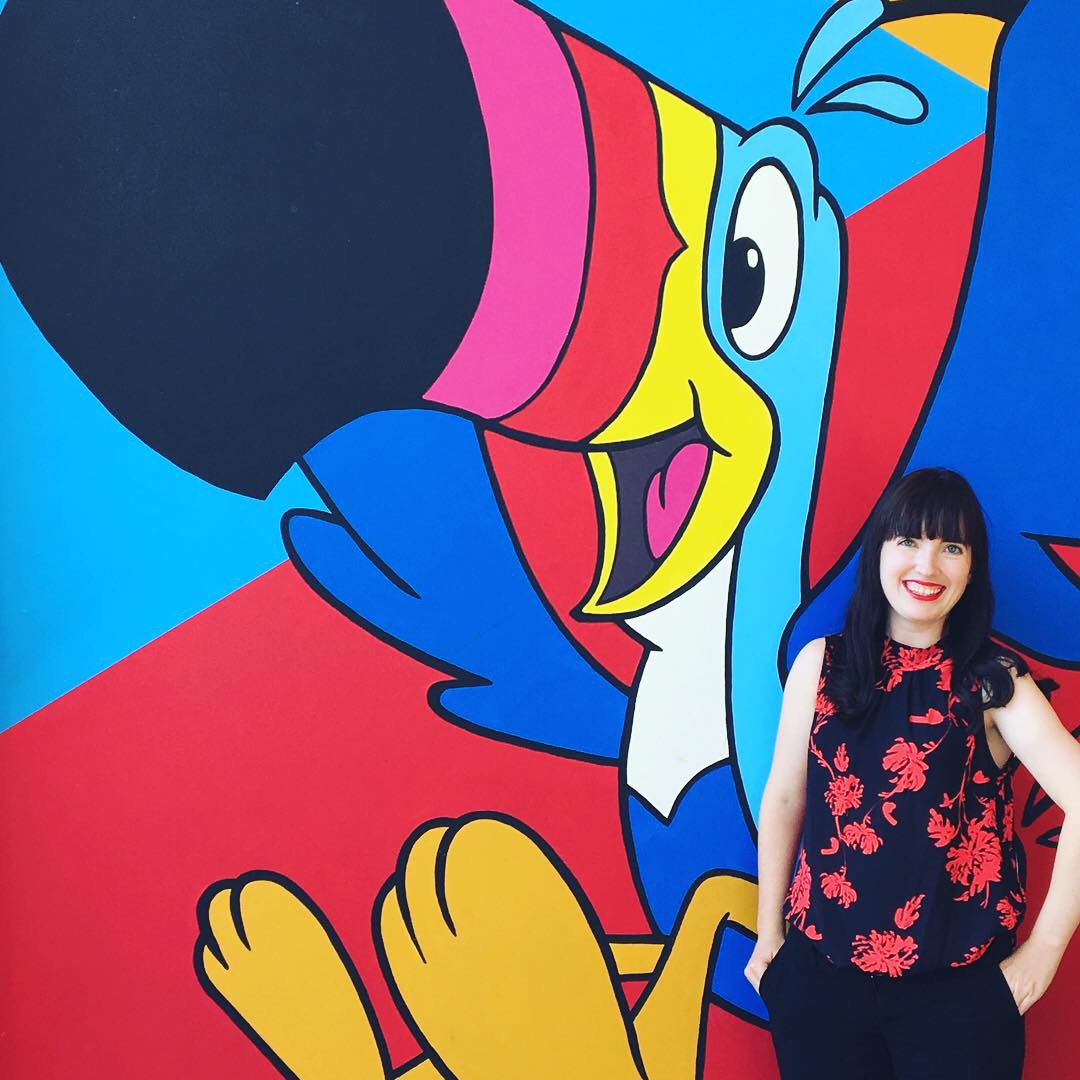 Overall, I would give my experience at Kellogg's NYC a 10/10 Yelp review. Incredible service, amazing people, and an awesome setting. Let's design every apartment in New York to look like this, okay?